Don's Birthday Surprise 2008
Saturday, September 6th - his actual birthday
12:30 PM - ??
Thonrton Beach, Daly City
A glorious Hike! A Day At The Beach! Sto0pid Games!
PiCknICiNg and Drinking and DON!
and of course YOU !!!
which is all he really wants for his birthday.
Time with his friends.
Silly, silly, happy time with his friends.
Please feel free to Invite folks !!

Kids and Dogs welcome.
Ssshhhhhh!!!
Maps
Photos of the trails i took yesterday..
WHICH WAY DOWN? Either way will get you to the beach, but i recommend the one further south.
Current Forecast for Saturday is 84 degrees!
High Tide (3:40 PM) so we can retire to the 2nd stage bluff for picnic / BBQ/ fondue
and then either go back to the beach at lower tide to watch the sunset ( at 7:30 PM ) or do something else.
There have been whales just off the beach sporting in the water doing backflips and double gainers all week!!!! Apparently today's show was spectacular. (And by 5PM was over by 2 hours.... hence a good reason for moving the party up a couple of hours.)
The walk to the picnic area is downhill, less than 6 minutes.
From the picnic area, we will hike 10-13 minutes down the next ridge of bluffs and then down the last trail to the beach to play Flamingo Crochet, build Sand Castles, play Red Rover Red Rover, fly Kites, have bubble gun wars. In short, we shall be the children that Don channels daily with his bouncy gate, giggly unselfconsciousness, dancing eyes and shit-eating grin.
(some asked, and NO it's not his 40th... when that comes we will celebrate in spectacular New Orleans Funeral March finery!)
LOCATION:
Thornton Beach, Park at Hwy 1/Skyline and Daly City Blvd. (Directions below)
DETAILS
We will try to arrive by 1 pm and then gambol down to the beach (past the picnic area, if you ARE early enough to surprise him.) We will come back up to picnic... there is a place to leave our stuff. it's in the shrubbery, not locked up. But i have some locks and chains. I don't think there will be any problem..
It's a nice hike. You will need shoes that can do both sand and hiking. The last 60 feet to the beach are fairly rugged. Everything else is easy. Until you have to come back up ...ugh! That is where your workout will come from.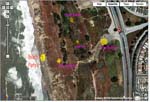 GAMES:
Flamingo Croquet !
Bring a lawn flamingo for your mallet
(legs not necessary, but when they are waiting to be used, they would look cool on legs, huh?)
We can build Sand Castles!

Bring a kite and lots of string!
This is one of the hottest hang glider spots in the universe... maybe. Your kite can terrorize them, and the birds (see below)
Bring Fire Poi if you spin???
I will bring the redneck soccer fi we are still there after dark :)
BRING:
Flamingo for croquet
Kite and String
2 pieces of firewood per person
good shoes (deep sand & rocks to scramble over to get to the beach)
water
towel or blanket
food to share (some ideas below)
beverage of choice
Backpack to haul this stuff !
flash light ...when the sun goes, it gets DARK
Also, a windbreaker or sweatpants just in case... It's almost ALWAYS windy and chilly on the beach in the summer, but this week is a rare treat. (I rode my horse today until 8 pm in a tank top ... no wind, no chill. Brilliant beach weather!)

FOOD:
I'm bringing cheese fondue for everyone!
(kinda like grilled cheese on a stick? umm, Burning Man reference, pay no attention)
Virginia is making a gorgeous pasta salad and her famous Sangria
We are all broke but we love Don. And really hot cheese on delicious fresh bread and Mediterranean pasta salad is all we need, so bring whatever you like, or don't, but if you do, maybe bring some to share with Don and the people sitting across from you, drooling, and we should be ok. We will have a fire pit, but it isn't on the beach and it isn't actually near the picnic tables. Like 100 yards away.
Does anyone have a portable Webber grill? If so, we could grill sausages (Don loves sausages) and hot dogs and whatever yummy combustibles you feel like bringing.
THORNTON BEACH:
The largest and last remaining great sand dunes in San Francisco, with a unique geology (a wooly mammoth was found here!)
Unlike Ocean Beach, Thornton is not patrolled, has no alcohol restriction, or dog restriction, is fact dog- and horse-friendly. [Horses have the right-of-way....if you see a horse, put yer dog on the leash to make sure it doesn't get kicked.]
Getting There:
Thornton is the beach south of Ocean Beach, on Hwy 1, just past Fort Funston at the intersection of John Daly Boulevard & Hwy 1 (which becomes Skyline Blvd)
From 280, take John Daly Blvd WEST.
The road ends at the light at the intersection of Skyline Blvd.
Proceed thru the light into the parking area. Park.
use the satellite view.
But here are the explicit maps you need:
And here is the PATH marked off to follow below.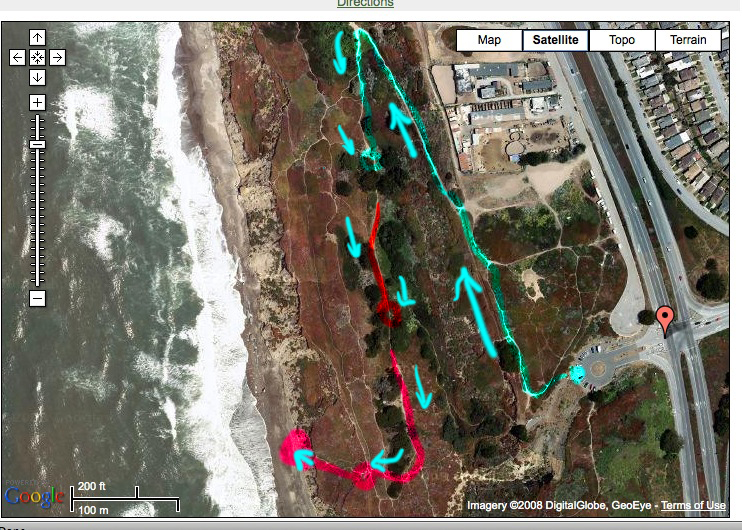 Here again are the photoz i took of it Thursday Sep 4th.
OTHER ATTRACTIONS:
There are whales offshore this week!
If you are into bird watching, the area is a birder's paradise. Endangered and threatened species prevalent right now are:
On the Beach -
brown pelicans
cormorants
Western Snowy Plover (cutest little things you ever saw, and endangered)
Along the trails -
bank swallows (i want to be one when i grow up)
willow flycatcher
and a plethora of hummingbirds
In the Air -
Red Tailed Hawks
Peregrine falcons
and a flock of ravens that just moved in....
WHALES, damnit! breaching, blowing, tail slapping, fucking WHALES !!!

Errata:
Ocean Beach has a number of very large events happening both Saturday & Sunday, and they are not accepting permits (for parties over 25 people), they don't allow alcohol and they don't allow dogs and you won't get a burn pit with 8 huge events going on all day, So there.